Posts for: January, 2014
By Joseph DuRoss, D.D.S.
January 23, 2014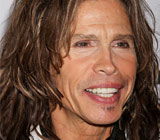 Rock star Steven Tyler fell and broke his two front teeth while on tour with his band Aerosmith not long ago. But Tyler was back on stage the very next day, thanks to modern dental implant technology.
Dental implants are the most optimal tooth replacement system in use today. The reason we say "system" is because replacing teeth with implants involves two, or sometimes three, components: the implant itself, which replaces the root-part of the tooth; the dental crown that sits on top of it to replace the part of the tooth that's visible in the mouth; and a connecting piece placed in between the implant and crown, known as an abutment.
The implant itself, made of titanium, is placed directly into the jawbone with a minor surgical procedure. Titanium has the unique ability to fuse to bone, creating a very strong connection. An implant provides virtually the same function as a natural tooth root, including stabilizing the bone underneath and preventing its loss — something that naturally occurs when a tooth is lost.
This fusion process takes a period of weeks, which is why the implant needs time to heal before a permanent crown is attached. One reason for early implant failure is "loading" them with biting forces too soon. But in experienced hands, implants are extremely successful. Documented research and clinical studies indicate success rates of over 95% — which is higher than any other tooth replacement option. Once integrated and functional, implants can last a lifetime. That's why, though they are a bit more expensive initially than other tooth-replacement options, they are more cost-effective in the long term.
Of course, another advantage of implants is that they look and feel completely natural. Just ask Steven Tyler!
If you would like more information about dental implants, please contact us or schedule an appointment for a consultation. You can also learn more by reading the Dear Doctor magazine article "Dental Implants." Dear Doctor also has more on "The Hidden Consequences of Losing Teeth."
By Joseph DuRoss, D.D.S.
January 08, 2014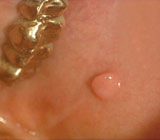 Your mouth's biting and chewing function is an intricate interplay of your teeth, jaws, lips, cheeks and tongue. Most of the time everything works in orderly fashion, but occasionally the soft tissues of the tongue or cheeks get in the way and are accidentally bitten. The resultant wound creates a traumatic fibroma, an overgrowth of tissue that develops to cover the affected area.
A fibroma consists of fibrous tissue made up of the protein collagen; this traumatized tissue functions much like a callous on a tender spot of skin by binding together the new tissues forming as the wound heals. But because the fibroma is raised on the surface of the cheek more than normal tissue, the chances are high it will be bitten again and reinjured, even multiple times. If this occurs the fibroma becomes tougher and more pronounced.
As it becomes raised and hardened in this way, it becomes more noticeable. More than likely, though, it poses no danger other than as an inconvenience. If it becomes too much of a nuisance, or you have concerns that it's more than a benign growth, it can be removed with a simple fifteen-minute procedure. An oral surgeon, periodontist or dentist with surgical training will first anesthetize the area with a local anesthetic; the fibroma is then completely excised (removed) and the wound opening sutured with two or three small sutures. Any post-procedure discomfort should be mild and easily managed by pain medication like aspirin or ibuprofen.
Although it's highly unlikely the fibroma is cancerous, the excised tissue should then be sent for biopsy. Viewing the tissue microscopically is the only definitive way to determine the true nature of the tissue and confirm any diagnosis that the tissue is benign. This is no cause for alarm as it's a standard healthcare procedure to biopsy this particular kind of excised tissue.
"Bumps and lumps" are common occurrences in the mouth. It's a good idea to point them out to us during your regular checkups or at any time if you have a concern. In either case, this bothersome problem can be easily treated.
If you would like more information on traumatic fibromas, please contact us or schedule an appointment for a consultation. You can also learn more about this topic by reading the Dear Doctor magazine article "Common Lumps and Bumps in the Mouth."