Posts for: December, 2013
By Joseph DuRoss, D.D.S.
December 24, 2013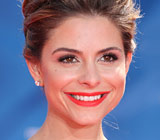 As the youngest person ever to host Entertainment Tonight, Maria Menounos, an independent filmmaker, actress, and co-host of daily entertainment news program Extra, has made a huge splash in the world of entertainment journalism. However, she is also an avid ambassador for the American Diabetes Association, a cause that is very dear to her heart because her father is a diabetic.
Her father's illness taught Menounos and her family about the importance of maintaining good general and dental health. This included a diet packed with fruits and vegetables, many of which they raised themselves. According to Menounos, they also ate little-to-no junk food. These habits still help keep the busy celebrity journalist fit and smiling with beautiful, healthy teeth.
Speaking of her smile, Menounos openly discusses her oral health in her interview with Dear Doctor magazine. She has had no major dental enhancements — not even braces — but does occasionally brighten her smile with tooth whitening. She also feels that her teeth are healthy due to the sealants she had as a child.
We could not agree more with Maria! Sealants for the tiny grooves in teeth known as "pits and fissures" are something that every parent or caregiver should consider for their children. The enamel of newly erupted teeth is more permeable, meaning that the acids produced by bacteria in the mouth can damage these teeth more easily, making them more susceptible and less resistant to decay. The good news is that dental sealants help protect teeth until the enamel has matured. Because of sealants — along with fluoride, good hygiene, and better nutrition (including less sugar consumption), tooth decay has been dramatically reduced.
If you are interested in learning more about dental sealants, contact us today to schedule an appointment so that we can conduct a thorough examination. During this private consultation, we will also discuss any questions you have as well as what treatment options will be best for you or your children. However, to learn more about dental sealants now, you can continue reading the Dear Doctor magazine article "Sealants for Children." And to read the entire interview with Maria Menounos, please see the Dear Doctor magazine article "Maria Menounos."
By Joseph DuRoss, D.D.S.
December 10, 2013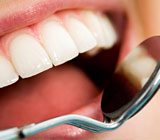 While hygiene and regular dental care go a long way to reduce your risk of oral disease and disorders, you're still subject to your heredity. Everything from tooth alignment to the shape of your jaws is determined by your genes.
So is the biological structure of your gum tissue. Aside from minute variations, gum tissue structure falls into two broad categories — "thin" or "thick," which refer to the actual thickness of the tissue and the underlying bone. The tooth's appearance is the best indicator of which type you may have: those with more triangular-shaped tooth (often called scalloped) have thin gum tissue; a person with a squarer appearance (flat) has thick gum tissue. People of Asian descent tend to have thin/scalloped tissue while those with European or African heritage tend to have thick/flat tissues.
Thick gum tissue isn't superior to thin, or vice-versa. In fact, each type is susceptible to certain types of diseases or adverse conditions.
Thin tissues are more susceptible to the occurrence of receding gums. Caused mainly by periodontal disease and toothbrush abrasion, the gum tissue recedes and exposes more of the unprotected tooth surface that should be below the gum line. This increases the risk of decay and tooth loss. Patients with thick tissue, on the other hand, have a higher risk of developing a condition known as "pocketing." As the thicker gum tissue becomes inflamed from dental plaque, it loses its attachment to the teeth and forms a small pocket. The end result is possible bone and tooth loss.
There's not much you can do about which type of gum tissue you have, for which you can thank (or blame!) your ancestors. But there's something you can do to reduce your risk of periodontal disease. First and foremost, you should practice good daily hygiene, brushing with a soft-bristled tooth brush and gentle flossing. It's also important to maintain regular cleanings and checkups in our office; not only will this ensure complete plaque and tartar removal, but gives us a better chance to detect either receding gums or pocketing early. Earlier detection can mean better treatment outcomes — and a saved smile.
If you would like more information on genetic types of periodontal tissues, please contact us or schedule an appointment for a consultation. You can also learn more about this topic by reading the Dear Doctor magazine article "Genetics & Gum Tissue Types."