Posts for: April, 2013
By Joseph DuRoss, D.D.S.
April 20, 2013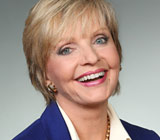 She's an international star who's recognized everywhere she goes. As Carol Brady, she was an ambassador for the "blended family" before most of us even knew what to call her bunch. And her TV Land Pop Culture Icon Award is on permanent display in the National Museum of American History. So what item that fits inside a purse can't Florence Henderson do without?
"I will never leave home without dental floss!" she recently told an interviewer with Dear Doctor magazine. "Because I have such a wide smile, I have found spinach or black pepper between my teeth after smiling very broadly and confidently."
Henderson clearly understands the importance of good oral hygiene — and she's still got her own teeth to back it up! In fact, flossing is the best method for removing plaque from between the teeth, especially in the areas where a brush won't reach. Yet, while most people brush their teeth regularly, far fewer take the time to floss. Is there any way to make flossing easier? Here are a couple of tips:
Many people have a tendency to tighten their cheeks when they're holding the floss, which makes it more difficult to get their fingers into their mouths and working effectively. If you can relax your facial muscles while you're flossing, you'll have an easier time.
To help manipulate the floss more comfortably, try the "ring of floss" method: Securely tie the floss in a circle big enough to easily accommodate the fingers of one hand. To clean the upper teeth, place fingers inside the loop, and let the thumb and index finger guide the floss around each tooth. For the lower teeth, use two index fingers. Keep moving the floss in your hand so you always have a clean edge... and remember, the goal is to get the tooth clean, but it shouldn't hurt — so don't use too much pressure or go too fast.
So take a tip from Mrs. Brady: Don't forget the floss! If you would like more information about flossing and other oral hygiene techniques, please contact us for a consultation. You can learn more in the Dear Doctor magazine article "Flossing: A Different Approach."
By Joseph DuRoss, D.D.S.
April 04, 2013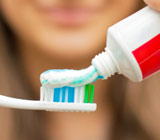 Since the time of the ancient Egyptians, people have used mixtures of various substances in pursuit of a single goal: cleaning their teeth effectively. Today, even with a glut of toothpaste tubes on the supermarket shelf, most people seem to have a particular favorite. But have you ever thought about what's in your toothpaste, and how it works? Here are five facts you might not know.
1) Most toothpastes have a very similar set of active ingredients.
Once upon a time, a toothpaste might have contained crushed bones and oyster shells, pumice, or bark. Now, thankfully, they're a little different: today's toothpaste ingredients generally include abrasives, detergents and fluoride compounds, as well as inert substances like preservatives and binders. Toothpastes formulated to address special needs, like sensitive teeth or tartar prevention, have additional active ingredients.
2) Abrasives make the mechanical action of brushing more effective
These substances help remove stains and surface deposits from teeth. But don't even think about breaking out the sandpaper! Modern toothpastes use far gentler cleaning and polishing agents, like hydrated silica or alumina, calcium carbonate or dicalcium phosphate. These compounds are specially formulated to be effective without damaging tooth enamel.
3) Detergents help break up and wash away stains
The most common detergent in toothpaste (which is also found in many shampoos) is sodium lauryl sulfate, a substance that can be derived from coconut or palm kernel oil. Like the abrasives used in toothpaste, these detergents are far milder than the ones you use in the washing machine. Yet they're effective at loosening the stains clinging to your teeth, which would otherwise be hard to dissolve.
4) Fluoride helps prevent tooth decay
This has been conclusively demonstrated since it was first introduced into toothpaste formulations in 1914. Fluoride — whether it's in the form of sodium fluoride, stannous fluoride or sodium monofluorophosphate (MFP) — helps strengthen tooth enamel and make it more resistant to acid attack, which precipitates tooth decay. In fact, it's arguably the most important ingredient, and no toothpaste can receive the American Dental Association's Seal of Approval without it.
5) Look for toothpaste with the ADA seal
This means that the particular brand of toothpaste has proven effective as a cleaning agent and a preventative against tooth decay. Plus, if the package says it has other benefits, then research has verified that it does what it says. Oh, and one other thing — toothpaste doesn't work if you don't use it — so don't forget to brush regularly!
If you have questions about toothpastes or oral hygiene, please contact us or schedule an appointment for a consultation. You can learn more in the Dear Doctor magazine article "Toothpaste — What's In It?"