Posts for tag: veneers
By Joseph DuRoss, DDS
September 20, 2016
Teeth are one of the first things people notice in business and social situations. If your smile could use a little work, it's hard not to feel a
little self-conscious whether you're at a business meeting or out on the town. Luckily, cosmetic dentistry treatments offer an easy way to improve your smile. Dr. Joseph DuRoss, your Long Beach, CA dentist, shares information about a few common cosmetic treatments.
Teeth whitening
White teeth not only look better, but can also make you appear a few years younger. Over-the-counter whitening kits may lighten your smile, but you'll have to use the products for weeks to notice a difference. When you want a whiter smile without the wait, it pays to visit your dentist. He uses professional-strength whitening agents that are stronger than those you'll find drugstore kits. Whitening will only take about an hour, and best of all, you'll enjoy whiter teeth for several years.
Veneers
Veneers hide minor issues that make you want to stop smiling. These wafer-thin porcelain shells are attached to the fronts of your teeth only. They're an excellent choice if you want to conceal a discolored tooth, hide a crack or chip, or cover small spaces between teeth. Veneers also offer an excellent option if you're looking for a more long-lasting way to whiten your teeth.
Crowns
Do you have one tooth that looks like it doesn't belong in your mouth? Maybe it's extremely pointy or noticeably crooked, or perhaps it's just a little too short. Crowns are the perfect answer to your problem. These dental restorations encase your teeth completely and provide coverage on all four sides.
Bridges
A missing tooth not only affects your appearance, but also makes it hard to chew. Bridges replace missing teeth by suspending an artificial tooth or two between two crowns.
Dental implants
After you lose a tooth, you might wish you could just pop a new tooth in that empty socket. Thanks to dental technology, you can. Implants replace your tooth roots and fuse to your jawbone. The transformation is complete when your dentist adds a crown to the top of the implant.
Cosmetic dentistry can change your smile and your life. Call Dr. Joseph DuRoss, your Long Beach, CA dentist at (562) 424-8537 to schedule an appointment to learn which cosmetic procedure is right for your dental issue.
By Joseph DuRoss, D.D.S.
February 21, 2014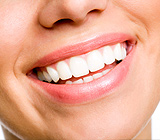 Although traditional porcelain laminate veneers are much less invasive than other cosmetic dental applications, they still often require the removal of some of the surface tooth enamel, a process known as tooth reduction. Now, an alternative veneer treatment known as "no-prep" veneers eliminates this initial step of tooth reduction for some patients.
Although most reductions take very little of the tooth enamel, they do permanently alter the tooth. No-prep veneers are growing in popularity because the tooth is not permanently altered, allowing for two benefits: if desired, the veneer application can be reversed and the tooth returned to its original state; and there's more flexibility for patients to "test-drive" their new look with prototype veneers worn while the permanent veneers are manufactured, with changes made easily during this tryout period.
Dentists have long regarded at least a minimum of tooth reduction as absolutely necessary for the proper adhesion of veneers, and to avoid a bulky or over-contoured smile. And, while advances in no-prep veneers have largely addressed these concerns, it is true this option isn't for every patient considering a veneer application.
For example, patients with large or forward-positioned teeth are not good candidates for no-prep veneers. Patients who choose a veneer treatment over orthodontic treatment for certain conditions will likely need some tooth preparation to achieve an acceptable aesthetic result. For patients generally, no-prep veneers have a limited application range on the bottom jaw due to space limitations.
Simply put, traditional veneers are a more versatile option for most patients. On the other hand, no-prep veneers can be a good choice for patients with genetically small or misshapen teeth, teeth reduced by erosion or grinding, or those with narrow or diminished smiles.
If you're considering this option, our first step is to conduct a complete examination of your teeth and mouth. We'll carefully evaluate every aspect of your mouth structure and overall dental condition. If you fit the criteria, you may be able to avoid tooth reduction and still gain the smile you desire.
If you would like more information on no-prep veneers, please contact us or schedule an appointment for a consultation. You can also learn more about this topic by reading the Dear Doctor magazine article "Porcelain Veneers Without the Drill."
By Joseph DuRoss, D.D.S.
February 03, 2013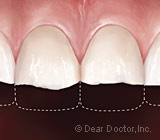 Even with good dental hygiene and care, your teeth may show signs of wear as you age. Fortunately, we now have ways to treat these symptoms of aging and restore a youthful look and function to your teeth and jaws.
How Do Teeth Wear?
All the tissues in your body are constantly in a process of breaking down (catabolism) and rebuilding (anabolism). During childhood the anabolic processes exceed the catabolic processes. But after you have reached physical maturity the balance changes and the breakdown process begins to draw ahead of the building up. The result: signs of wear.
In your teeth, the outer layer, the enamel, is a hard, mineralized substance that is resistant to wear. Under the enamel is a layer called dentin, which is a living tissue something like bone. As teeth age, the dentin layer thickens, causing teeth to lose some of their whiteness. Most wear to your teeth comes from the pressure of the upper and lower teeth's biting surfaces against each other. How much wear occurs depends on your bite or occlusion (how the teeth are aligned, and how they meet) and the ways in which you use your teeth.
Constant interactions between the biting surfaces of your teeth result in removal of small amounts of enamel. Your body naturally compensates for this wearing away of material. As teeth wear, they erupt from your jaws by tiny amounts, moving slightly up or down to stay in the proper occlusal relation with the teeth on the other jaw. They also slowly move toward the front of your mouth.
If the wear becomes excessive, your body can no longer compensate for it. At this point you may find that your bite relationships are not working correctly, and the lower third of your face loses height. This creates or accentuates an older appearance.
Some people clench or grind their teeth, applying greater than normal — and damaging — forces to their teeth. This problem, often a reaction to stress, is called bruxism. It can cause a number of problems from jaw pain to loose teeth or excessive wear or tooth fractures. If you suffer from excessive wear due to bruxism, a professionally made mouthguard may prevent further damage.
Modern Dentistry Can Restore a Youthful Look
Modern dentistry can successfully restore the normal shape, appearance and function of worn teeth by installing porcelain crowns or veneers. These not only replace the tooth structure lost through wear, but they also restore the bite relationship. Crowns on excessively worn teeth can dramatically improve tooth color and facial appearance, resulting in a more harmonious, younger look.
Contact us today to schedule an appointment to discuss your questions about dental wear and aging. You can also learn more by reading the Dear Doctor magazine article "How and Why Teeth Wear."