Posts for tag: smile makeover
By Joseph DuRoss, D.D.S.
September 23, 2013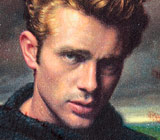 Imagine how different things would have been for movie star James Dean, had he not managed to replace the front teeth he lost as a youngster. According to one biography of the 1950s heartthrob, Dean's teeth were knocked out while he was swinging around on a homemade trapeze. Because his smile was restored, Dean was able to land the plumb movie roles that catapulted him to stardom.
This is perhaps the ultimate example of how a smile makeover can create new opportunities for a person. But opinion polls confirm that nearly 90% of adults feel an attractive smile is an important social and career asset. And, an almost equal percentage of adults feel that their smile could use some improvement.
Are you unhappy with your smile? Is a smile makeover something you've ever thought about? Dear Doctor magazine has come up with a great list of questions you can ask yourself to figure out if you would benefit from this life-changing experience:
Do you avoid smiling in photos?

Are you conscious about spaces and gaps in your teeth?

Are your teeth making you look older than you feel?

Have you held back a smile?

Do you feel that your teeth are stained or too yellow?

Do you hold your hand up in front of your mouth when speaking or laughing?

Do you notice areas of excessive tooth wear that make your smile look older?

Do you have little teeth and a gummy smile?

Are your teeth crooked, chipped or crowded?

Do you wish you had someone else's smile?
If you answered "yes" to any of these questions, please come in and see us. We have an amazing array of cosmetic procedures available to us — far more than what was available to James Dean in the 1950s. These options range from relatively inexpensive teeth whitening treatments to more permanent cosmetic solutions such as porcelain crowns and veneers. Together we can come up with a plan to give you the smile you've always dreamed about.
If you would like more information about what a smile makeover could mean for you, please contact us or schedule an appointment. You can learn more about smile makeovers by reading the Dear Doctor magazine article "Beautiful Smiles by Design." Dear Doctor also has more on "The Impact of a Smile Makeover."
By Joseph DuRoss, D.D.S.
February 03, 2013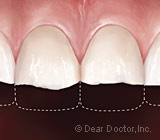 Even with good dental hygiene and care, your teeth may show signs of wear as you age. Fortunately, we now have ways to treat these symptoms of aging and restore a youthful look and function to your teeth and jaws.
How Do Teeth Wear?
All the tissues in your body are constantly in a process of breaking down (catabolism) and rebuilding (anabolism). During childhood the anabolic processes exceed the catabolic processes. But after you have reached physical maturity the balance changes and the breakdown process begins to draw ahead of the building up. The result: signs of wear.
In your teeth, the outer layer, the enamel, is a hard, mineralized substance that is resistant to wear. Under the enamel is a layer called dentin, which is a living tissue something like bone. As teeth age, the dentin layer thickens, causing teeth to lose some of their whiteness. Most wear to your teeth comes from the pressure of the upper and lower teeth's biting surfaces against each other. How much wear occurs depends on your bite or occlusion (how the teeth are aligned, and how they meet) and the ways in which you use your teeth.
Constant interactions between the biting surfaces of your teeth result in removal of small amounts of enamel. Your body naturally compensates for this wearing away of material. As teeth wear, they erupt from your jaws by tiny amounts, moving slightly up or down to stay in the proper occlusal relation with the teeth on the other jaw. They also slowly move toward the front of your mouth.
If the wear becomes excessive, your body can no longer compensate for it. At this point you may find that your bite relationships are not working correctly, and the lower third of your face loses height. This creates or accentuates an older appearance.
Some people clench or grind their teeth, applying greater than normal — and damaging — forces to their teeth. This problem, often a reaction to stress, is called bruxism. It can cause a number of problems from jaw pain to loose teeth or excessive wear or tooth fractures. If you suffer from excessive wear due to bruxism, a professionally made mouthguard may prevent further damage.
Modern Dentistry Can Restore a Youthful Look
Modern dentistry can successfully restore the normal shape, appearance and function of worn teeth by installing porcelain crowns or veneers. These not only replace the tooth structure lost through wear, but they also restore the bite relationship. Crowns on excessively worn teeth can dramatically improve tooth color and facial appearance, resulting in a more harmonious, younger look.
Contact us today to schedule an appointment to discuss your questions about dental wear and aging. You can also learn more by reading the Dear Doctor magazine article "How and Why Teeth Wear."